Welcome¶
Overview of the ABINIT tutorials.¶
These tutorials are aimed at teaching step-by-step the use of ABINIT, in the UNIX/Linux OS and its variants (MacOS, AIX etc.). They might be used for other operating systems, but the commands have to be adapted.
At present, more than forty tutorials are available. Each of them is at most two hours of student work. The set of tutorials is more structured and gradual than the user guides, but one need to invest more time to read them.
Dependencies between tutorials are present. To start with, four tutorials cover the basics of using ABINIT, and one tutorial explains in detail the build of ABINIT (as a complement to the easier user guide type documentation). Six tutorials are intermediate level ones, that might be prerequisite for some more advanced tutorials. The following schema should help to understand these dependencies.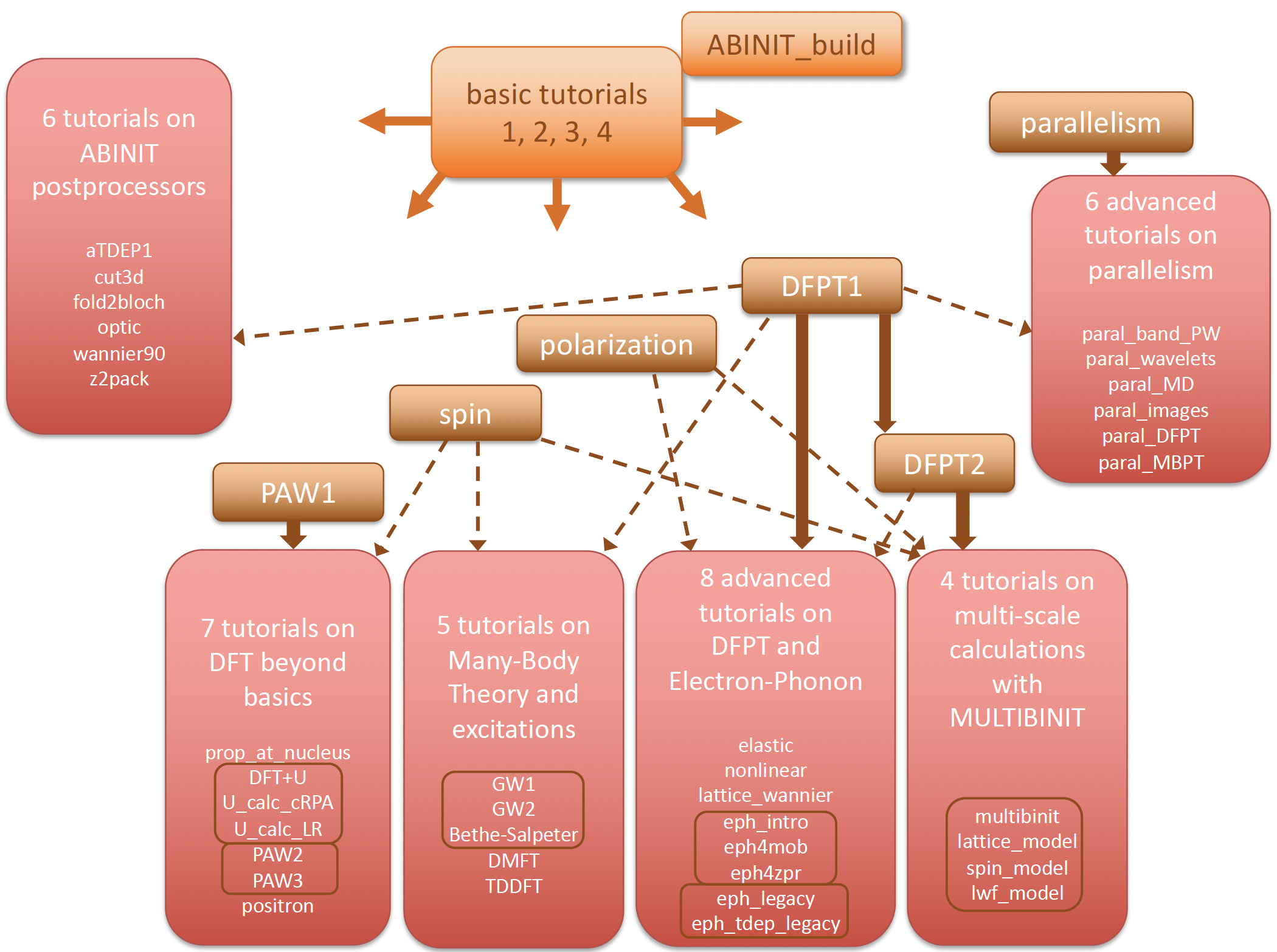 The four basic tutorials are presented at the top, in one orange block. There is also an orange block for the ABINIT_build tutorial. Each block in brown represents one intermediate-level tutorial. The blocks in red gather by themes -one block per theme- the more advanced tutorials. The following themes are covered: ABINIT postprocessors, static DFT, Many-Body Theory and excitations, Density-Functional Perturbation Theory -DFPT- and electron-phonon interaction, multiscale calculations with MULTIBINIT, and parallelism. See the list of acronyms.
The basic tutorials are prerequisite for all other tutorials, as represented by the heavy orange arrows. Then, some relationships between intermediate-level and advanced-level tutorials are indicated, in brown. A heavy brown arrow indicates that the starting intermediate tutorial is mandatory for all the tutorials of the indicated theme, while a dashed brown arrow indicates that only some of the tutorials of the indicated theme will need it.
Inside a theme, there are also subsets of tutorials indicated with a light contour. They are logically related to each other, and usually to be done one after the other. Otherwise, advanced tutorials usually do not have mutual dependencies. There are however three exceptions: the GW1 tutorial is a prerequisite for the paral_MBPT tutorial, the parallelism tutorial is a prerequisite for the LRUJ tutorial, while the lattice_wannier tutorial is a prerequisite for the lwf_model tutorial.
Visualisation tools are NOT covered in the ABINIT tutorials. Powerful visualisation procedures have been developed in the Abipy context, relying on matplotlib. See the README of Abipy and the Abipy tutorials.
Before following the tutorials, you should have read the new user's guide, as well as the pages 1045-1058 of Rev. Mod. Phys. 64, 1045 (1992). If you have more time, you should browse through the Chaps. 1 to 13, and appendices L and M of the book this book by R. M. Martin. Alternatively, the book by J. Kohanoff can also be used (skip sections 5.3, 5.5, 5.6, 8.3-8.6, 9.4, 9.5, 10.2, 10.3, and the whole Chap.12). One of the latter references is a must if you have not yet used another electronic structure code or a Quantum Chemistry package.
After the tutorial, you might find it useful to learn about the test cases contained in the subdirectories of ~abinit/tests/, e.g. the directories fast, v1, v2, … , that provide many example input files. You should have a look at the README files of these directories.
Basic tutorials & ABINIT_build¶
The basic tutorials 1-4 present the basic concepts, and form a global entity: you should not skip any of these.
Intermediate level tutorials¶
Tutorials in this group are prerequisite for several other tutorials. Whether it is worth to read them depend on what you are trying to compute with ABINIT.
The additional information given by tutorial DFPT1 opens the door to:
Other tutorials present more specialized topics.
ABINIT postprocessors¶
Some ABINIT postprocessors have one dedicated tutorial. For some processors (ANADDB, MULTIBINIT), there are even more tutorials, presented under other themes. Alternatively, there are also specific User Guides for several postprocessors..
DFT beyond basics¶
** Prerequisite: PAW1.**
Many-Body Theory & excitations¶
This group of three tutorials on Many-Body Perturbation Theory (GW approximation, Bethe-Salpeter equation) is to be done sequentially:
The two following tutorials do not rely on Many-Body Perturbation Theory
Advanced tutorials on DFPT & electron-phonon interaction.¶
Prerequisite DFPT1 for all tutorials in this section. Also DFPT2 for all electron-phonon tutorials.
Density-functional perturbation theory gives access to many properties of materials (phonons, dielectric constant, electron-phonon interaction, elastic response, Raman coefficients, piezoelectricity …)
Electron-phonon interaction has been the subject of major efforts in the last years. Three tutorials are already available to present the new implementations.
Two legacy tutorials on electron-phonon interaction are still present. The implementations are still available at time of writing, but have been superseded by the new implementations, described in the above-mentioned tutorials.
MULTIBINIT tutorials¶
Prerequisite DFPT1 and DFPT2 for all tutorials in this section.
Advanced tutorials on parallelism¶
Prerequisite parallelism for all tutorials in this section.
For each of these tutorials, familiarization with the corresponding tutorial for the sequential calculation is mandatory, if it exists.
Note
Note that not all features of ABINIT are covered by these tutorials. For a complete feature list, please see the Topics page. For examples on how to use these features, please see the ~abinit/tests/* directories and their accompanying README files.